This post may contain affiliate links. Please read our full Disclosure Policy.
How to Grow a Vegetable Garden for Beginners
Learning to grow a vegetable garden can be so rewarding. The simple act of planting a seed, caring for it and producing healthy food is not only satisfying but is also cost-effective and gets you up close to nature. There are many different ways to start a garden but let's go over how to plant a vegetable garden for beginners.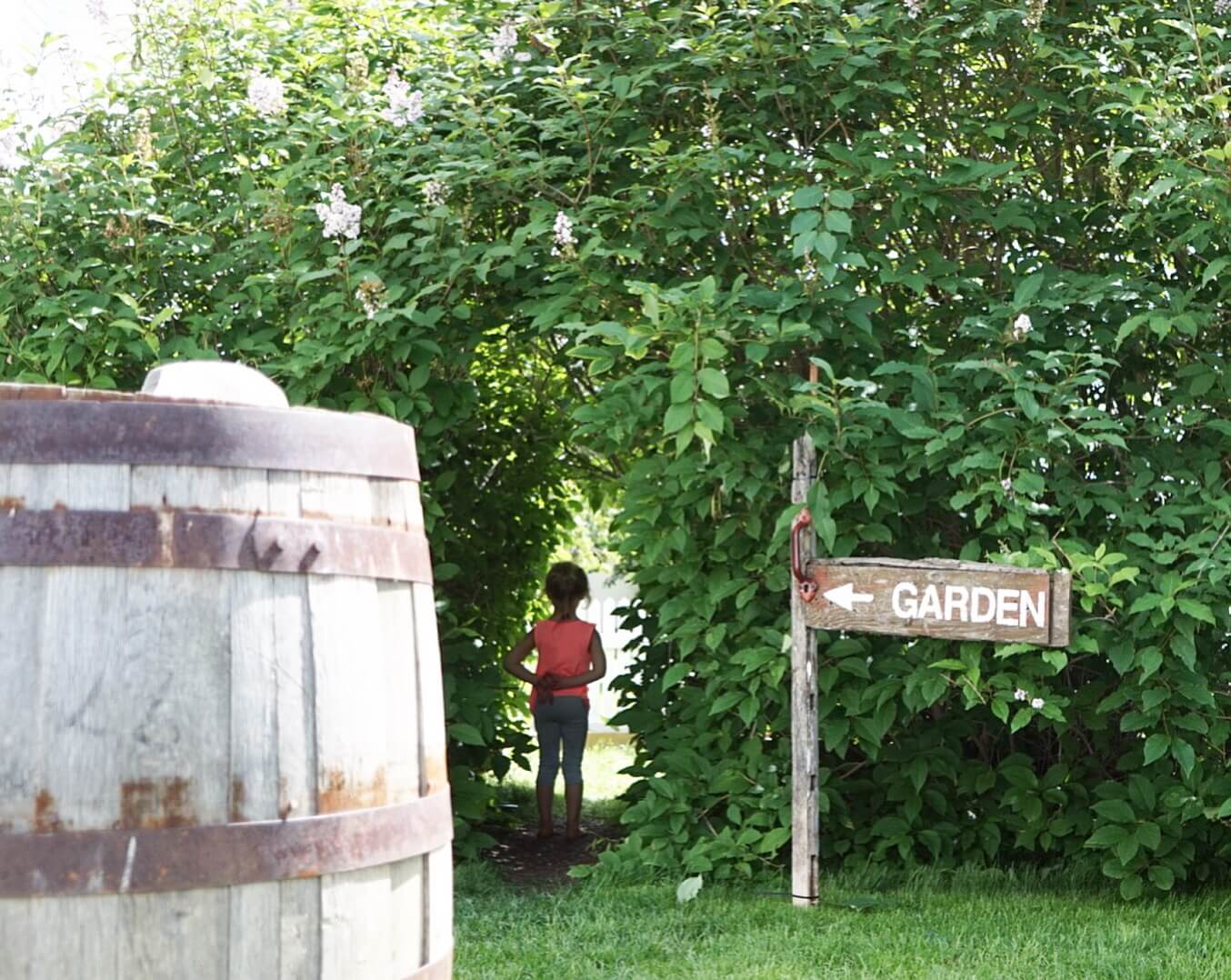 Planning A Garden Layout
The layout of your garden does make a big difference in how well it will grow. An old rule of thumb is, don't plant vegetables that have a similar leaf type next to each other. For example, don't plant dill and carrots beside one another or potatoes and squashes next to each other. Think about vegetables that you would naturally eat together and plant them next to each other like peas and carrots.
Don't Stress! Some years are better for growing certain vegetables than others. Last year squashes grew poorly, whereas the year before that squashes were plentiful! So go easy on yourself and keep trying even if you have a year where nothing grows. 
Early Season Vegetable Garden Ideas
The first vegetables that will pop up in your garden are spinach and radishes. Both of these are easy to grow and can handle some of the chillier summer mornings.
Radishes
Radishes need to be pulled from the garden within about a week of becoming full size as they become wormy and woody (course texture) quite fast. For this reason, we like to plant radishes beside plants that will become larger later in the season.
For example, peas and potatoes are slower to start, but get large later on so when the radishes are done it gives more room for these plants to grow. Keep this tip in mind when planning out your vegetable garden ideas!
If you love radishes and spinach you can replant and get a second feeding from them, however they don't do well in extreme heat.
Lettuce
Fresh garden salads are a staple in our homes. Almost any kind of lettuce can be started from seed and thrive. Romaine, Butter crunch, Brentwood (a new kind Britt tried last year and loved), mixed greens, Arugula or Rocket lettuce are all great to mix into your garden.
Peas
There are so many varieties of pea plants and they can produce such different results. We love the green arrow pea plant as it produces longer pods with sweeter peas. Edible peas are also delicious.
Snap peas are also a tasty and easy variation for the summer season. You can eat the entire shell of this pea so it makes it a fun variety to have for a quick snack.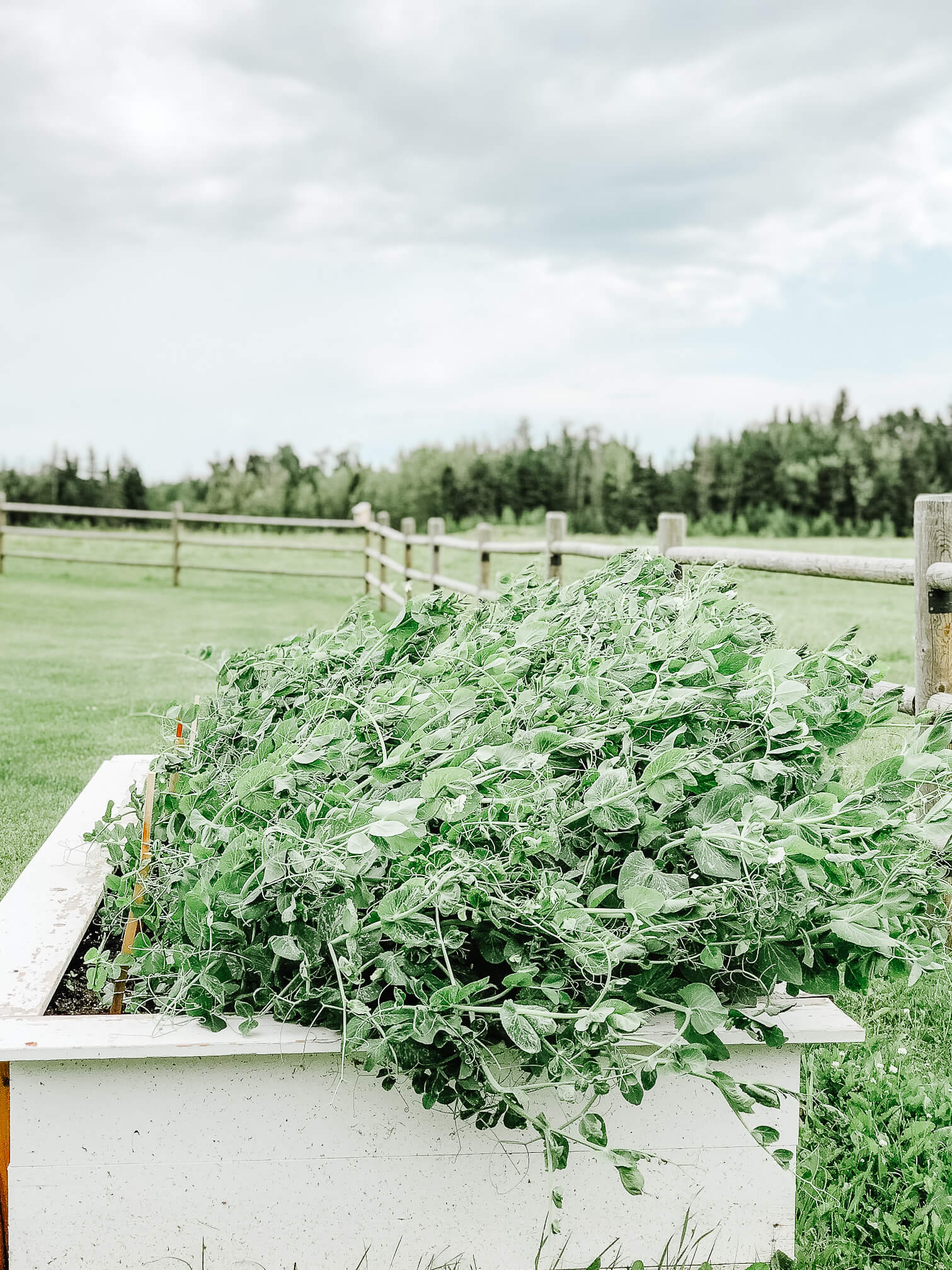 Learn how to build your own raised garden beds.
Carrots
You can never have enough carrots! Start these from seed and you will have a bountiful garden. Plus you can let them grow into the fall and they can store in the fridge, cold room or cover with sand for MONTHS! Carrots like a cooler temperature and the soil in the garden boxes get way hotter than a garden on the ground.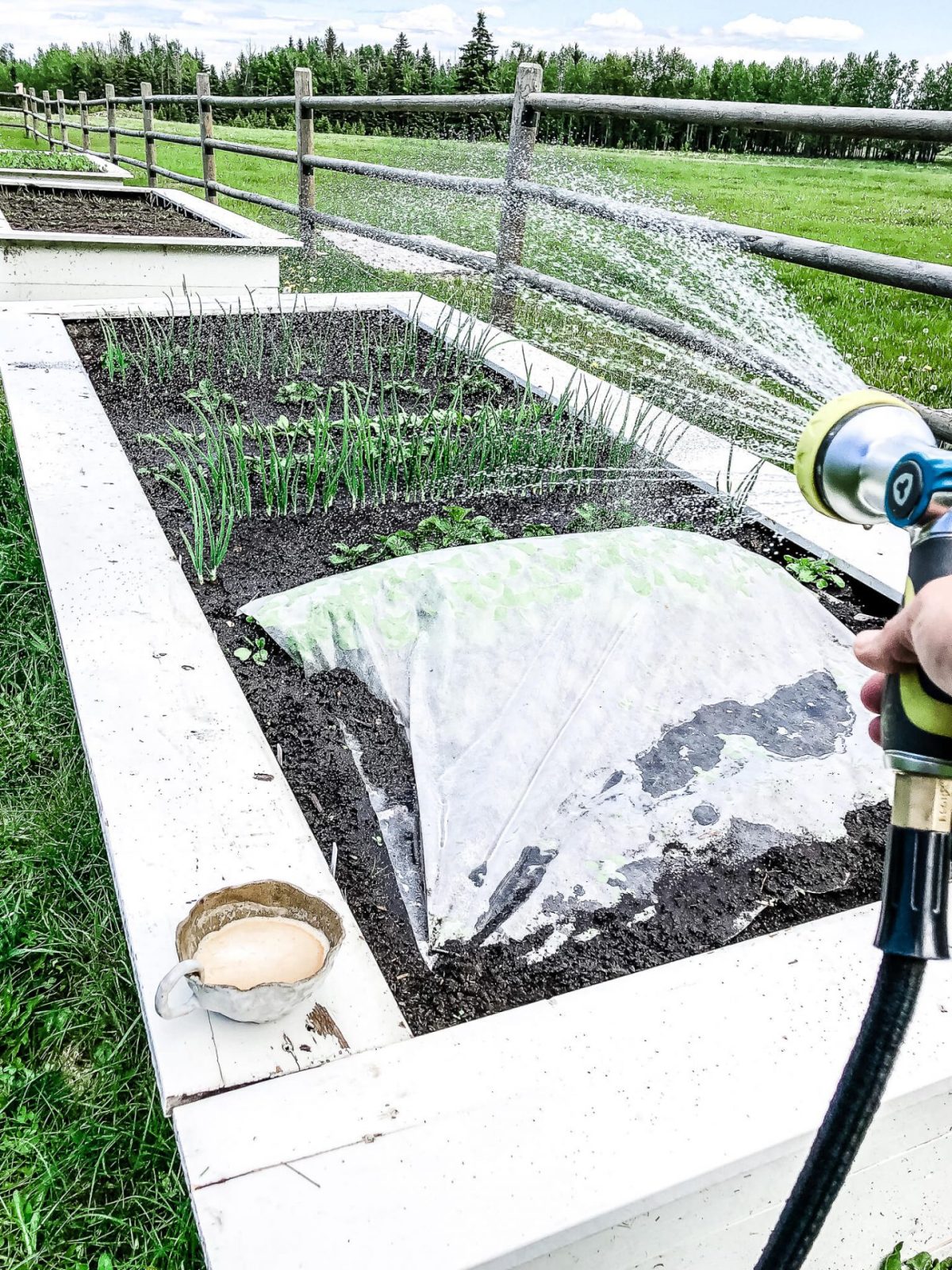 There are so many variations of carrots nowadays, I like to plant a few different colours of carrots to make for fun salads or roasted veggies at the end of the harvest. You can also mix radish seeds with carrot seeds when you plant to reduce the amount of thinning needed for carrots. The radish with mature faster than the carrots and as you pull the radish you will give ample room for your carrots to grow. 
Pickled carrots are a family fav around here! If your wanting a great recipe try my Crunchy Homemade Pickled Carrots
Potatoes
Red or white potatoes? White Potatoes are good for keeping to grow for larger baked potatoes in the fall. Red potatoes are sweeter and more tender. I have also grown Vitelotte potatoes in the past that I was given by my neighbour from France. I keep a few potatoes each season as seeds for the next year. This variation is very yummy and easy to cook with. Sometimes it's fun to try new variations like this.
When potato plants get approximately 8-10 inches tall they must be "hilled." Mount the dirt up around the plant as this is where the potatoes will grow. Potatoes hardly grow down so they require this dirt to produce
Robbing Potatoes??? After your potato plant has flowered (usually light purple or white flowers will bloom on the plant) you may find a few potatoes to rob. Gently use your hand to dig around the plant and feel for small potatoes and pluck them out. You will not hurt the plant by doing this. However, if you feel a potato and you rip it from its root then you must pull it as it won't continue to grow once this happens…so just enjoy eating it! If you are gentle you can feel around for the bigger potatoes and pull those ones.
Herbs
Some herbs are easier than others to grow. Dill, parsley and chives are very easy to grow.
Radoccio
Like a Radish this root vegetable is a great addition to your garden and easy to grow. Unlike the radish it takes time to grow and has a milder taste than the radish.
Zuchinni
Zucchini is easy to grow straight from seeds or starting early in small pots in the spring. This plant needs room to grow so you need to give it space! When planting Zucchini, you want to make sure it gets enough water for the first 7-10 days and a warmer growing season will really help as well.
Broccoli and Brussel Sprouts
These varieties of vegetables are becoming hardier allowing us to grow them! Both require a lot of sun and warmth however they can easily become wormy or full of Cabbage White Butterfly that eats the leaves.
Beets
Beets are a great root vegetable garden idea to add. You can eat the greens of beets early on before they become tough. Have you ever grilled beets? Baste them in extra virgin olive oil and seasoning and then put them on the BBQ until slightly tender and they are so sweet!
Swiss Chard
Swiss Chard prefers rich, well-drained soil in full sun or light shade. Plant this colourful plant seed in early spring to midsummer for a fall crop. Harvest and sauté in truffle oil or butter for a quick summer green.
Tomatoes
Due to our short growing season it is best to buy large plants already established if you want to enjoy tomatoes before the late summer. They require lots of sun, warmth and water! Fertilizer or compost soil can really help your tomatoes to grow. If you have a green house… even better!
Or if you have the room start your seeds indoors in March or April before taking them outdoors!
Pumpkins
Pumpkins need to be started indoors in our climate. We will start them in Late March or Early April and transplant them when the ground warms up and the frost stops. A few of the variations we love to grow that are a bit different then your standard orange pumpkin are:
Sugar Pumpkin
Blue Jarrahdale
Baby Boo
Fairytale (best tasting and for cooking of the bunch)
French Cinderella
Indian Doll
Pumpkins are amazing to cook with as well. Check out a couple of fav pumpkin recipes HERE. 
Vegetable Garden Ideas and Tips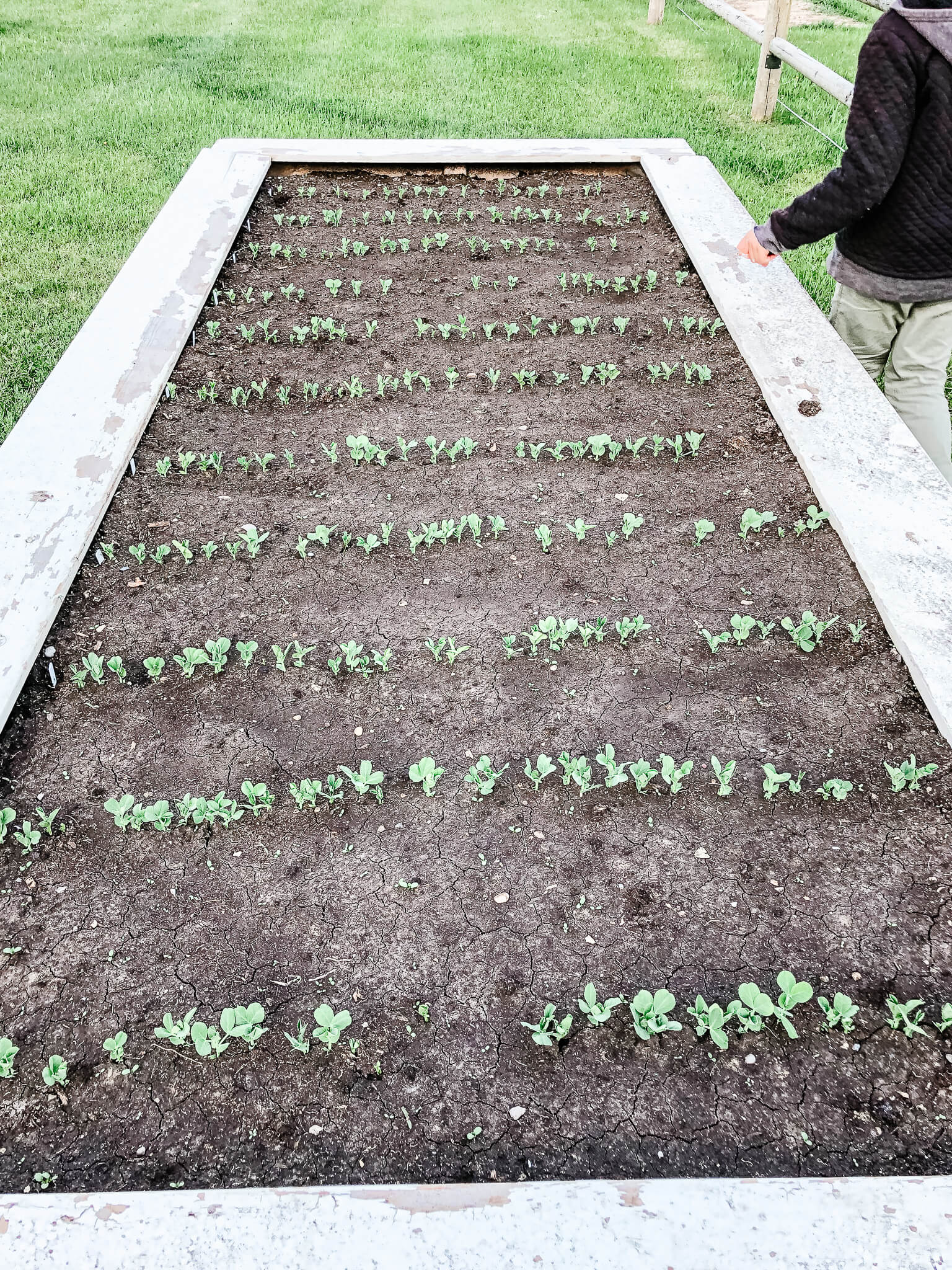 Fertilizer for Vegetable Gardens
Unlike flowers that you fertilizer high in potassium, you do not want this for vegetables. If you did this you would have vegetables with tones of leafy tops and little below. Pick a fertilizer where the 3 numbers (Nitrogen, phosphorous, potassium) are close to the same.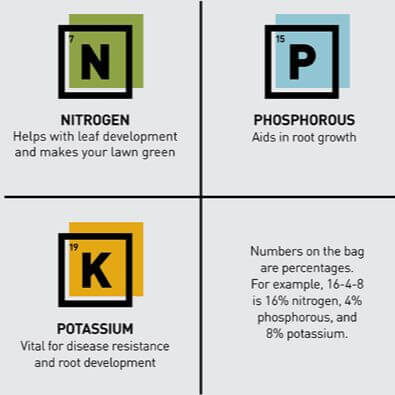 I also recommend adding some form of natural fertilizer like horse or sheep manure or compost to the garden each year as well! Just make sure to check the correct ratio for the compost mixture as it can burn or kill your seed if you add too much. Adding about a 10% compost mixture prior to planting will really give your garden a boost each year!
Deer Tolerant Plants
Sorry to say, but we don't know a truly deer-resistant plant. We are both lucky to not have deer problems so we don't have the best advice for this topic. The only thing you can do is to put up fences to keep them out.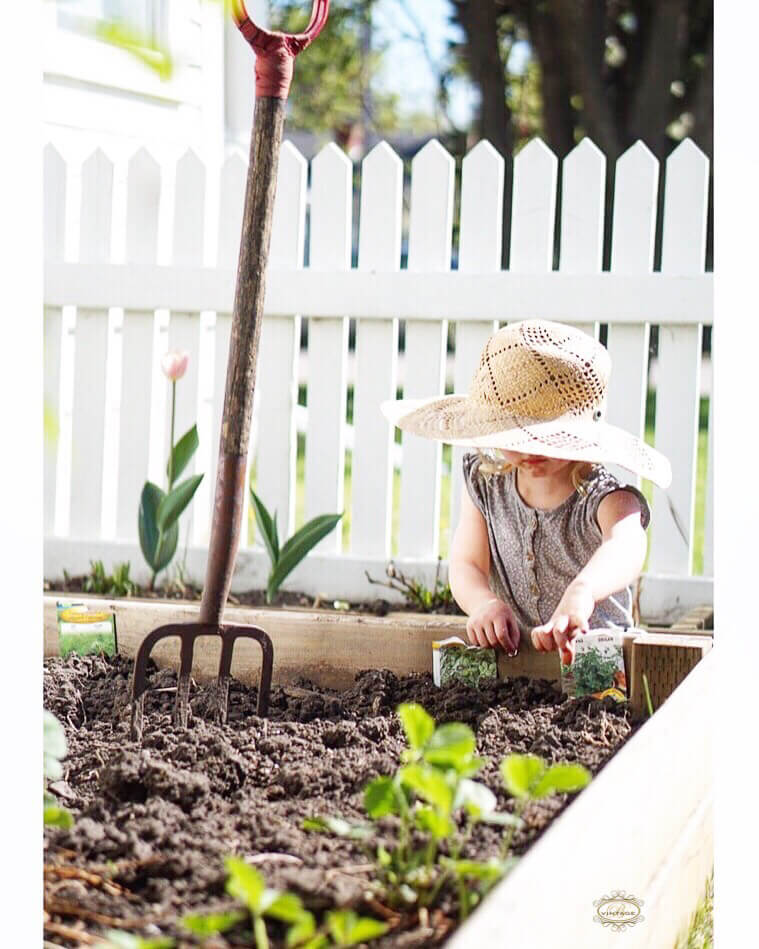 Weed Control
If you are starting your garden from scratch or building garden boxes then you can use cardboard to line the base of your garden. The cardboard blocks the sunlight killing the weeds and then decomposes over time. The next best thing is to pull your weeds. If you keep your garden maintained each year you will find you have fewer and fewer weeds.
I hope this run down on vegetable garden ideas gives you a good idea of what to plant this year. Ordering your seeds in the early spring is the perfect time of the year to get them here in time to start them indoors for the season. I would love to hear about your favourite vegetables and varieties that you plant in the garden each year. Leave a comment below or send me an email!
Happy Planting!
Now that you've got your veggies all figured out, it's time to plant your flower garden! I have a whole list of East Flowers to Grow for Beginners