This post may contain affiliate links. Please read our full Disclosure Policy.
We are all about the holidays…the home decor, the food, and the time with family! Especially as Fall and Winter Roll around we spend a lot of time hosting family gatherings and so we wanted to share a couple of Pumpkin recipes that we love to share with our families and friends!
So naturally when we thought about sharing our favourite pumpkin recipes we thought let's turn this into a baking challenge! Deb has a delicious Pumpkin Pie Recipe that she loves to make! Whereas, Britt is a big cookie fan and has come up with a soft Pumpkin Chocolate Chip Cookie Recipe. Let's take a look at the recipes and how the challenge went down!
Watch our Baking Challenge Below
Perfect Pumpkin Pie Recipe
Ingredients:
1 can pumpkin puree or 2 cups fresh pumpkin

1 can sweetened condensed milk

2 large eggs

1 teaspoon ground cinnamon

1/2 teaspoon ground ginger

1/2 teaspoon ground nutmeg

1/2 teaspoon salt

1 unbaked pre made pie crust
Directions:
Preheat oven to 425 degrees F. Mix/whisk pumpkin puree, sweetened condensed milk, eggs, spices and salt in medium bowl until smooth. Pour into crust. Bake 15 minutes.

Reduce oven temperature to 350 degrees F and continue baking 35 to 40 minutes or until toothpick comes out clean.

Let cool and enjoy.
Tips for Pumpkin Pies
To prevent getting a soggy pie crust bottom sprinkle a bit of white sugar on the pie crust before adding your filling!
Deb also used fresh pumpkin this time and the pie was perfectly moist!
If you want to try another fun Fall Recipe check out our talented friend Norma from Paint Me Pink Baked Apple Cider Donut recipe…or maybe don't because once you start you won't stop eating these!
PUMPKIN RECIPE CHALLENGE
Britt & Deb thought it would be fun to do a baking day and see how each others pumpkin recipes taste.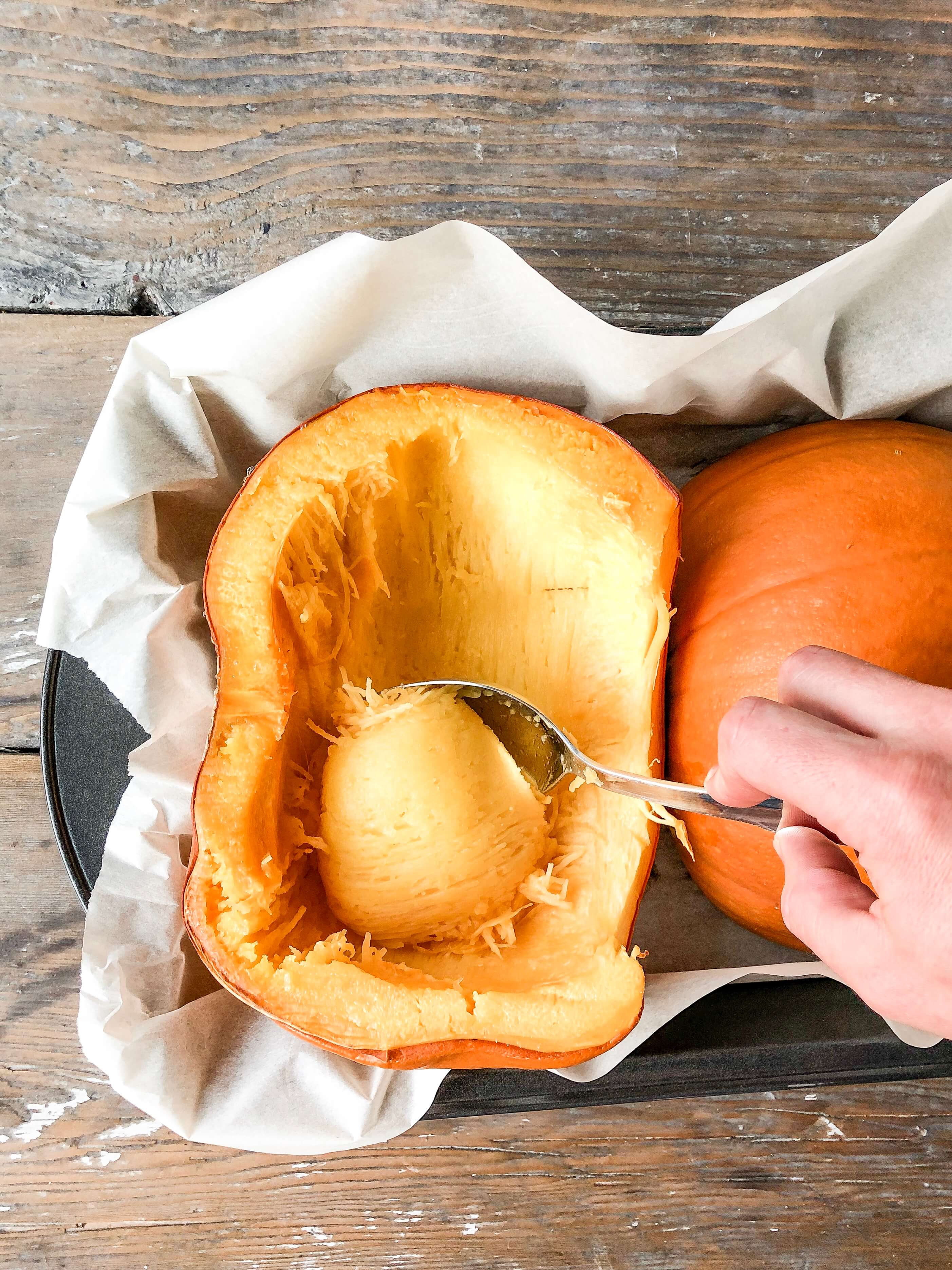 We decided to bake a pumpkin so that we could use real pumpkin over canned. To bake a fresh pumpkin you simply cut the pumpkin in half. Then, place the pumpkin in a pan, skin side up and cover with tin foil. Bake at 350 degrees Fahrenheit until the pumpkin is soft. The pumpkin flesh will easily scoop away from the skin and can be added to any recipe!
It was so fun to bake together…this was a first in our partnership! Deb loves baking recipes that are quick and delicious! And this pumpkin pie recipe is exactly that! Deb's pie was definitely quicker to whip up than the cookies!
Cookies are one of Britt's family favourites … in fact after the baking challenge the cookies were gone that evening! While pumpkin is not one of Britt's favourite flavours these cookies are so soft and chewy and the pumpkin is not overwhelming!
Click HERE for Britt's Soft Pumpkin Chocolate Chip Cookie Recipe!
Both recipes turned out so good and would be the perfect addition to any gatherings or events this Fall or Winter!
We would love to know if you try any of these recipes!! Leave us a comment below with what recipe you would try first!