This post may contain affiliate links. Please read our full Disclosure Policy.
Favourite White Paint Colours
Do you look at a white wall and say that's white paint OR do you see the soft or cool undertones, the hint of blue, pink or green? As interior designers "just white" does not exist! There are thousands of shades of white. Over the years we have found some of our favourite white paint colours and shades and we want to share them with you!
Picking the perfect white colour for your home can be tricky! Every white will look different in EVERY home! We never suggest picking a colour for your home based on someone else's home! If you are just starting the painting journey and looking for help on how to pick out paint colours, check out this post first.
My Floor Color White
Britt and Deb have each found their own white paint colours that they love to use in their own homes. However, the 1 colour that the 2 both love is the colour for their painted floors! It is a custom colour that they created and they call it the Vintage Society White (maybe one day a paint company will create our colour??). It is the perfect warm grey shade! It's light grey colour without being too grey or to blue or too green. When you are colour matching custom colours it can be tricky when you are switching between different brands. Even though this colour was created using Benjamin Moore Paint, even switching between the different types of paint means a new formula. Check out the custom colour formulation on the Painted Floor Blog Post. Or for quick start we took Grey Owl by Benjamin Moore and kind of cut the colouring formulation in half (this is a great place to start because it can be hard to get a Hardware Store to match the formula).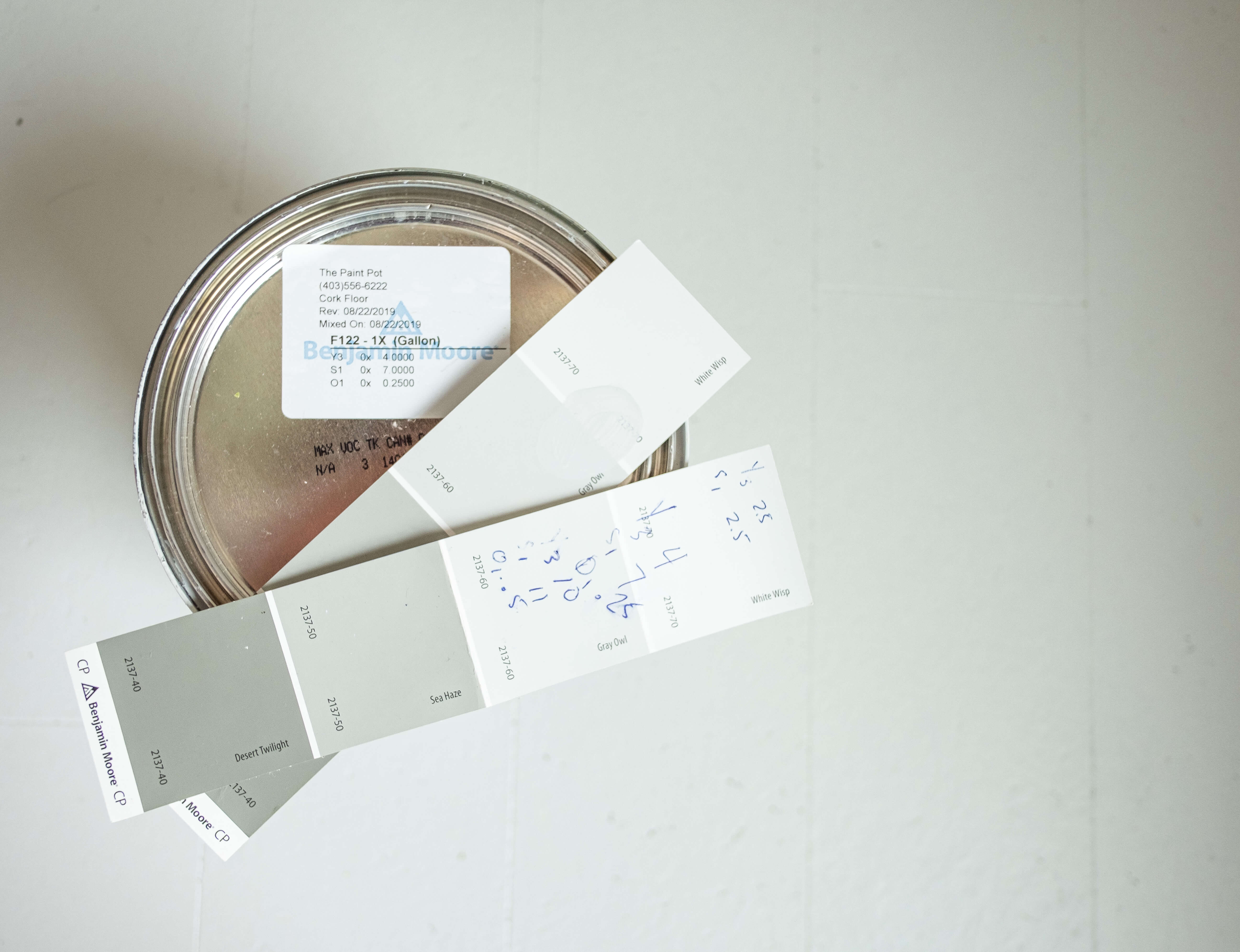 P.S. Britt's stairs are not the same colour as the rest of her floors. The stairs are painted the same colour as her trim, banister, and stair risers because it was easier to stay consistent with this colour instead of painting around every spindle.
Are you ready to take on painted floors, but don't know where to start? Here's our step-by-step tutorial and how we've painted all our floors
Deb's Paint Colours
Over the years Deb had various shades of whites in different rooms of her home. However, over the last few years she is converting her home to be entirely Oxford White CC-30. This beautiful white colour pairs well with so many other colours! It has a very slight blue undertone that Deb loves and has now used on both the exterior and interior of her home. When Deb first bought this house, every room had a different colour and Oxford white was the colour she used for her trim and doors. As time has gone on and her style has changed, she has slowly changed all the wall spaces in the house to this colour in a satin finish. This gives a fluid transition from room to room that she loves.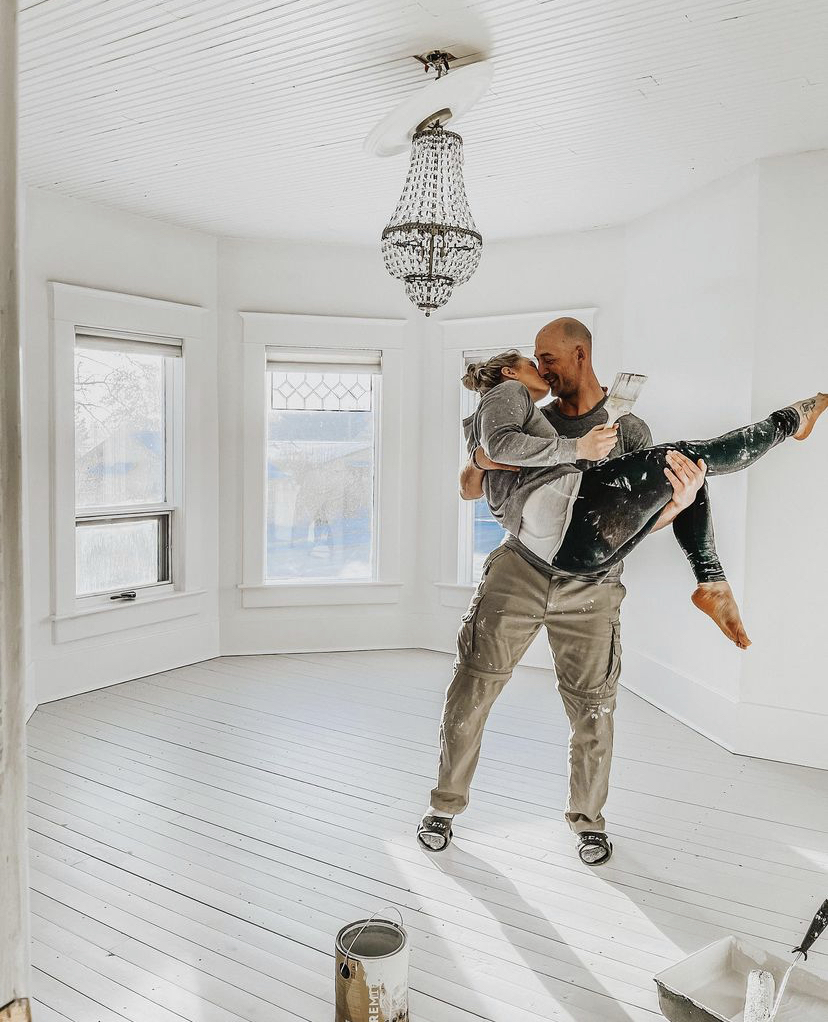 Deb also painted her tiny house with this colour! Using a solid wood stain to cover the pine shiplap walls. Her cabinets are the same colour too. The reason she loves it is because it works almost like a painters canvas to display all of her beautiful wood antiques and vintage pieces. It is gives her favourite items and collected pieces the chance to shine instead of having the walls be the focal point!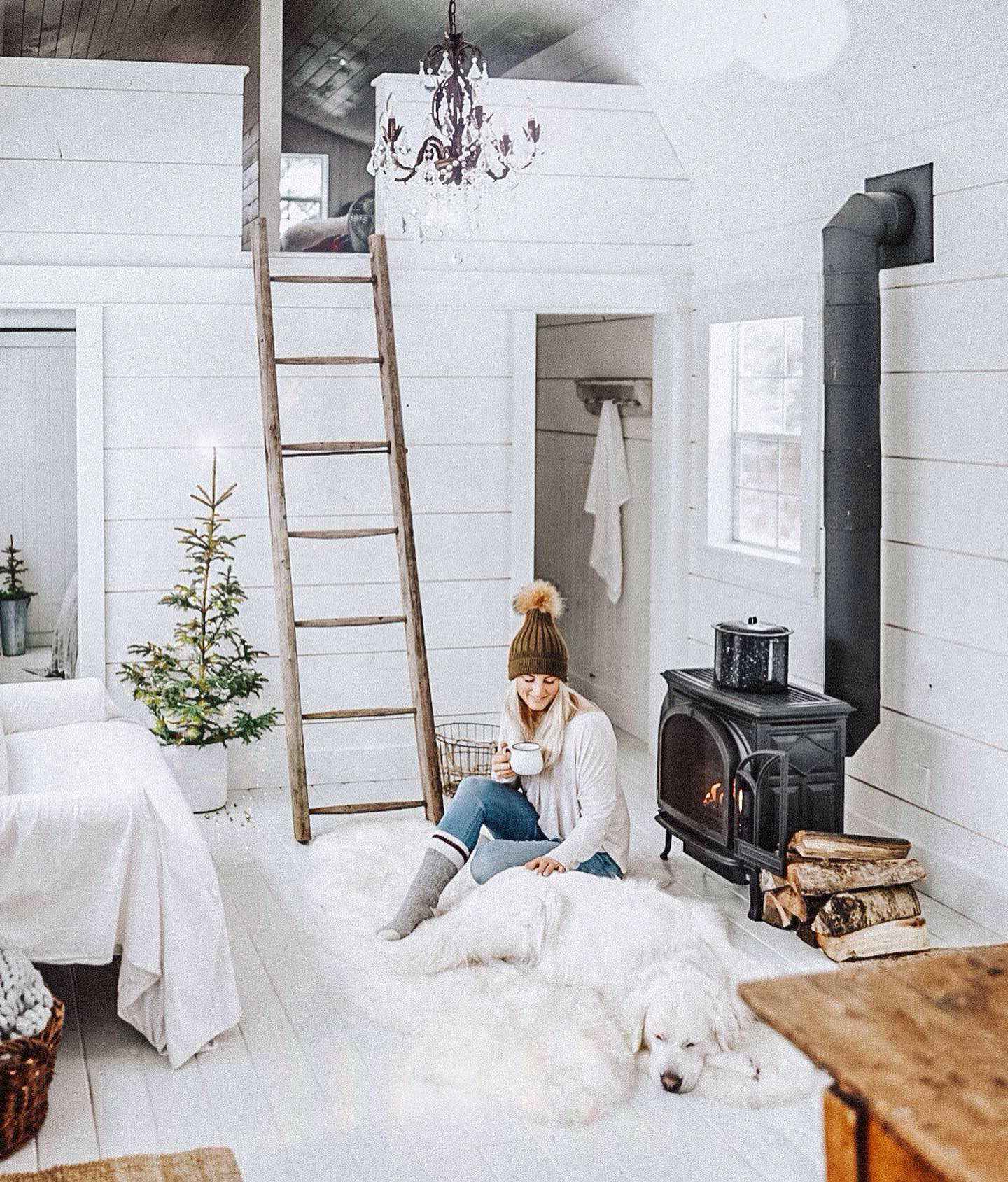 Other whites Deb has loved in the past are Porcelain by Canadian Tire and Chantilly Lace OC-65 by Benjamin Moore.
Britt's Paint Colours
Britt has played around with a few different white tones in her home over the years. When her house was originally build she painted her walls a warm tone. Take Britt's advice and always choose whiter and lighter colours than your initial thought! Over time she felt it wasn't white enough. Britt definitely prefers warm shades of white. She loved the crisp feel of OC-65 Chantilly Lace by Benjamin Moore but didn't love the blue undertone. Working with the local paint store owner she re created Chantilly Lace and came up with a custom colour. Britt calls the colour Lace and love the neutral white with a soft warm undertone.
The colour of the walls is similar to Architectural White C2-516 by C2 paint.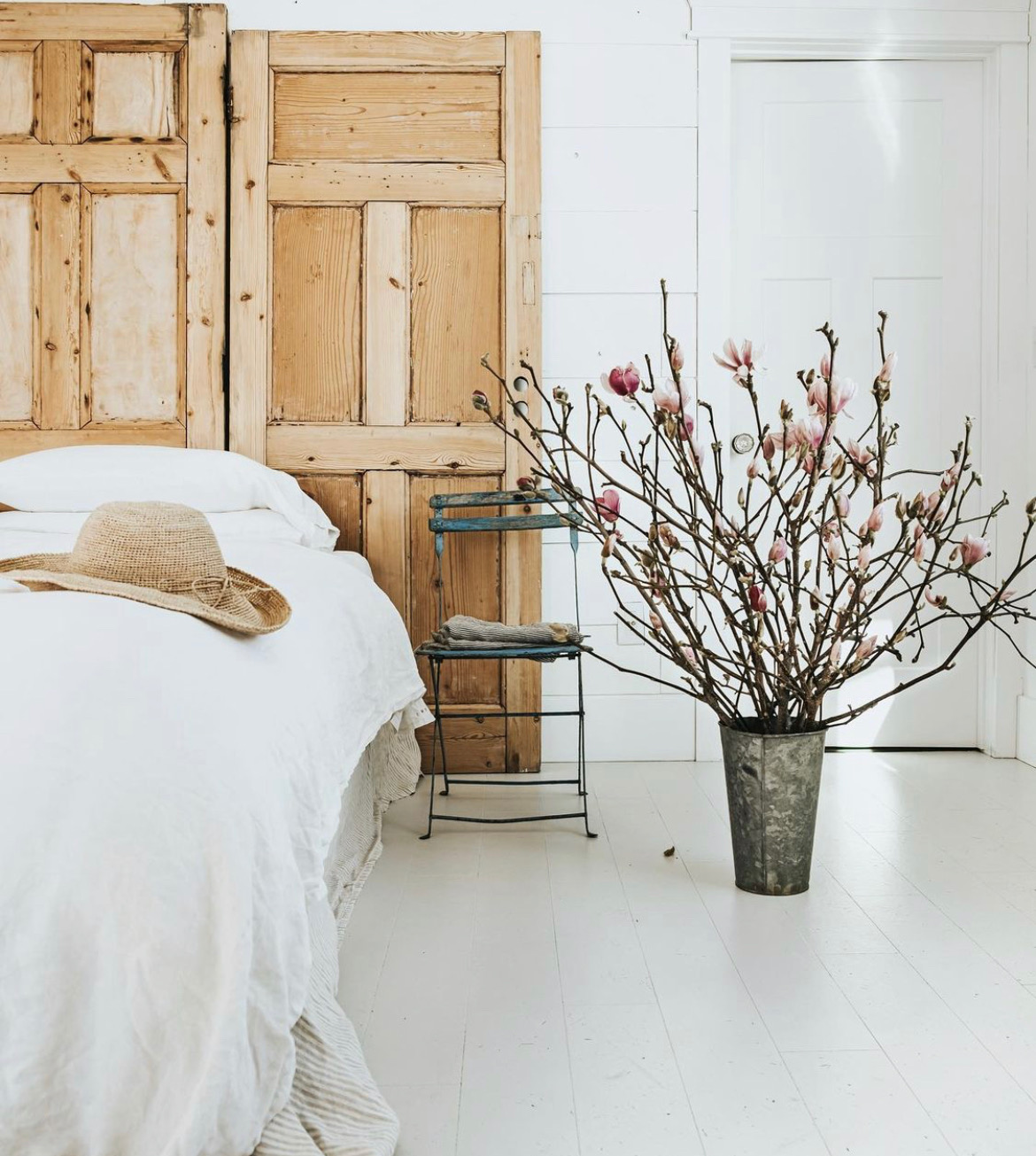 For her trim she wanted a crisp bright white. Starting with a can of straight white as it comes out of the can she added a few drops of black to "crisp" up the colour. This is the only colour that Britt has not changed in her home. The colour is very similar to Whistler White by C2 paint.
Exterior Paint! Britt's house was originally blue and red (what was she thinking). Over the course of 2 years Britt repainted her entire home using a 6" paint brush. The colour on the exterior of her house is called Linen. This is also a warm white shade. It was a custom colour mixed to match some of the eavestroughs on her home. The colour is very similar to Milk Moustache C2-692 by C2 Paint.
Britt also painted her patio pavers! Using a solid stain on the patio pavers has held up extremely well! Even pressure washing the patio pavers does not take the paint off. Because she wants a distressed look of the pavers she gently rolls the paint on. The colour on the patio pavers is Cloud White CC-40 or OC-130.
We hope you can find the perfect white shades for your home! Don't ever let someone tell you it's JUST WHITE! Pick out your favourites, create samples if you need to! And don't ever let someone tell you white is boring! We live by the motto … let your walls be the canvas and the things you hang on your wall be the art that's reflected off the canvas.